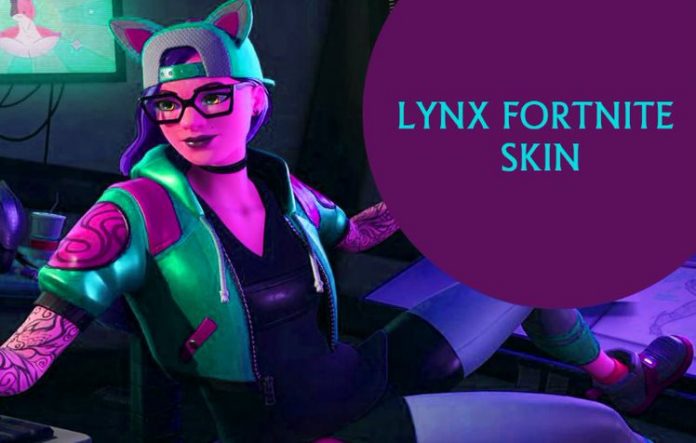 Last Updated on January 21, 2023 by admin
Fortnite Battle Royale has established itself as one of the greatest battle royale games with an actual storyline. Every season brings new adjustments and upgrades to the plot, and the game responds by introducing new characters, places, and weaponry. Not every cosmetic in the game has a significant lore connection. However, there are skins in the game that accumulate over time and influence the plot of Fortnite.
Lynx Skin
'Lynx,' a battle pass beginning legendary skin with style upgrades, was first presented in Season 7 as a battle pass starter legendary skin. Since its introduction, the skin has been a popular favorite in the Fortnite community.
Streamers like Pokimane praised the skin's versatility and general appearance. But that wasn't the end of it. Players quickly traced the photos back to the original lynx loading screens, where they could see meowscles in the background after noticing Lynx in the Chapter 2 Season 2 Meowscles loading screen. Players dismissed it as an 'Easter egg,' but it turns out that Meowscles has a tattoo in the shape of a lynx. This further solidifies their connection to the game's history. This prompted a follow-up inquiry from a few ardent Fortnite fans: what is Lynx's age in the Fortnite storyline?
Lynx's Fortnite age
Even though Epic Games has yet to certify her age, we can guess her age based on her interaction with Meowscles in the game. Based on an informed estimation, we may estimate Lynx's age in the game to be between 18 and 24 years old. According to specific ideas, Fortnite's own 'Cat-woman' may be an adolescent paladin who is only 16 years old.
Lynx skin in Fortnite
The Lynx skin is a Fortnite Pass cosmetic. Epic Games' Fortnite is an online game that was released in 2017. The Lynx skin has a spot for an outfit. "Who needs nine lives when one is enough?" says the skin's in-game description. On December 6, 2018, the Lynx skin was introduced. This skin is part of the Lynx set, one of the Fortnite game's skin sets. There are a total of 5 cosmetics in the Lynx series. Scratch Mark's Harvesting Tool, Lynx's Loading Screen, Cat Flip's Emote, Lynx's Spray, and Scratch Mark's Outfit are all included in this collection (Lynx).
The Lynx skin's character model is an unknown female. There are seven different styles in the Lynx outfit. All of these styles have the following appearance:
Tier 1 Lynx: The model has tattoos all over her arms and is dressed in a blue blazer with red embellishments over a black shirt and gray-blue pants. She's also sporting a cat-eared hat.
Tier 2 Lynx: The hood of her jacket covers her head, and her blue slacks and shirt are changed with black attire.
Tier 3 Lynx: Her face is hidden behind a mask with blue flashing lights for her eyes. The jacket is taken off, and blue accents are added to the outfit.
Tier 4 Lynx: The blue elements of the outfit have been changed with red.
Tier 5 Lynx: The entire costume turns crimson.
Tier 6 Lynx: The general color of the outfit changes to sea blue.
Tier 7 Lynx: The entire clothing has been changed to black.
Where can you get the Lynx skin in Fortnite?
The Lynx skin is a Fortnite skin that is exceptionally uncommon. This skin's rarity is legendary. This skin is not available for purchase in the game's item shop using v-bucks (in-game money). The Lynx skin is available in Tier 1 of Fortnite's Season 7 Battle Pass.
Read More: What Is Griddy Fortnite And How To Get Griddy Fortnite? All You Need To Know
The Lynx skin is the first Battle Pass costume you unlock in Season 7, but did you know there are Lynx unlockable variations with additional designs and even colors? Here's how to completely upgrade the Fortnite Lynx skin, including how to get the Fortnite Black Panther skin without risking legal ramifications.
With the Season 7 Battle Pass, how can you get the Lynx skin?
First, let's look at the phases. Here's how to unleash the full potential of the Fortnite Lynx Season 7 Battle Pass cosmetic by upgrading it.
Earn 30,000 XP and obtain Battle Pass rank 23 by completing stage 2 of Fortnite Lynx.
Earn 125,000 XP and reach Battle Pass tier 45 in Fortnite Lynx stage 3.
Earn 325,000 XP and obtain Battle Pass rank 67 by completing level 4 of Fortnite Lynx.
You may gain XP in various ways, including through kills, Victory Royals, and, most significantly, Battle Pass missions. Here's how to unlock the different colors of Battle Pass challenges.
Complete 15 Weekly Challenges in Red.
Blue: Complete 35 Weekly Challenges.
Black: Finish all 55 Weekly Challenges.
You'll need to accomplish at least two weeks' worth of tasks (plus another) to unlock the Red Lynx variation, as there are seven Weekly Challenges each week. The Black Fortnite Lynx skin, on the other hand, will not be opened until Season 7, Week 8, at the earliest for those who have completed all of the challenges up to that time. As a result, the unlock date has been scheduled for January 24.
How old is the Fortnite Lynx skin?
We can estimate Lynx's age inside the videogame to be around 18 and 24, depending on an informed estimation. A few ideas also contend that Fortnite's unique "Cat-woman" may only be 16 years old as well as a teenage paladin.
FAQs
Apart from this if you are interested to know more about Anti-Aging Cream as a Daily Skin Care Routine then visit our Lifestyle category.