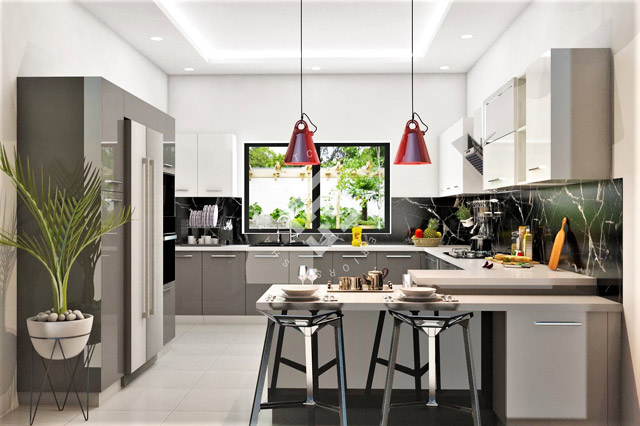 Last Updated on January 1, 2023 by tabraiz579
Do you want to spruce up your kitchen but can't afford to remodel your entire kitchen? No need to worry! There are several ways to update your kitchen to make it look nicer. One such way is to replace your kitchen's cabinet and door handles. Fortunately, updating handles with designer black kitchen handles is a pretty simple and cost-effective undertaking that can improve the entire look of your kitchen. However, picking the right kind of kitchen cabinet and drawer handle is no less important than choosing the other elements of the kitchen. This is because the overall look and functionality of the kitchen cabinets are affected by the type of handle you pick.
Cabinet handles add style and personality to plain cabinet doors and can give your kitchen a very distinct look. It is not just about the colour of the kitchen cabinet handles that you need to consider; their hardware is also essential to the overall existing decor of the kitchen. Countless kitchen cabinet handle designs are available in the market, ranging from large and intricate to small and simple. Choosing the right cabinet handles might be an overwhelming task with so many options. Therefore, to give you a nudge in the right direction, here are a few things you must consider when selecting.
Style of handles
The first and foremost thing you must consider when choosing handles for kitchen cabinets is what style is your house? Is it modern? Retro? Contemporary? Remember, just like other home decor accessories, kitchen cabinets handles should also match the style of your home, but they should be comfortable to use, too. Hence, you must first decide whether you want a knob or a pull. Before fixing a piece of handle, you can get a couple of handles. Place them against a cabinet or drawer and see how they look and how comfortable a grip you have.
Size and positioning of handles
When determining the right handle size, you need to consider a few things like balance, proportion, aesthetics, and function. An oversized cabinet door or drawer would need a large-sized handle for its proper functionality; however, for a small drawer, a small-sized handle will do well. Typically, pulls are placed horizontally on drawers and vertically on the doors; but you can change them as per your choice. Just make sure that all of them are installed consistently throughout the kitchen.
Material of handles
Cabinet handles come in various materials, including polished brass, stainless steel, ceramic, glass, oil-rubbed bronze, black matte, rust, and even durable plastic. Plus, different materials offer different finishes. If you want a modern and sophisticated look in your kitchen, you must go for steel or chrome; otherwise, brass and bronze handles are a good choice for an antiquated and traditional look. It would be better to consider other kitchen elements before choosing the material.
Finishes
The finish is different from the colour of the handles; it is associated with the process by which the handle's surface is treated. Some coloured or black kitchen handles available in the market at a low price are painted, and their paint often wears off after wear and tear. The best finish is electroplated and has a micronized polished finish; they look beautiful, are much smoother, and are more corrosion resistant. So it is better to pay more and get what you need. Lastly, it is always advisable to set your budget before selecting. Now that you know what you need, you can better decide how much to spend on it.
Apart from this if you are interested to know more about Kitchen with a Kitchen Hob | Super Asia then visit our Home Improvement category