Last Updated on May 30, 2023 by hassan abbas
The updated feature of Whatsapp makes it possible to delete all the messages at once. So for the users who find it time-consuming to select messages one by one to delete, this feature is easier. But what if you accidentally delete the important chat conversation. Is it possible to recover it? Let's see.
Whatsapp Offers end-end encryption chat, so there is not so exact way to read and recover deleted WhatsApp messages. But there is an alternative way. This article shows how to read and recover WhatsApp deleted messages on iPhone or Android devices.
How to read and recover Whatsapp deleted messages?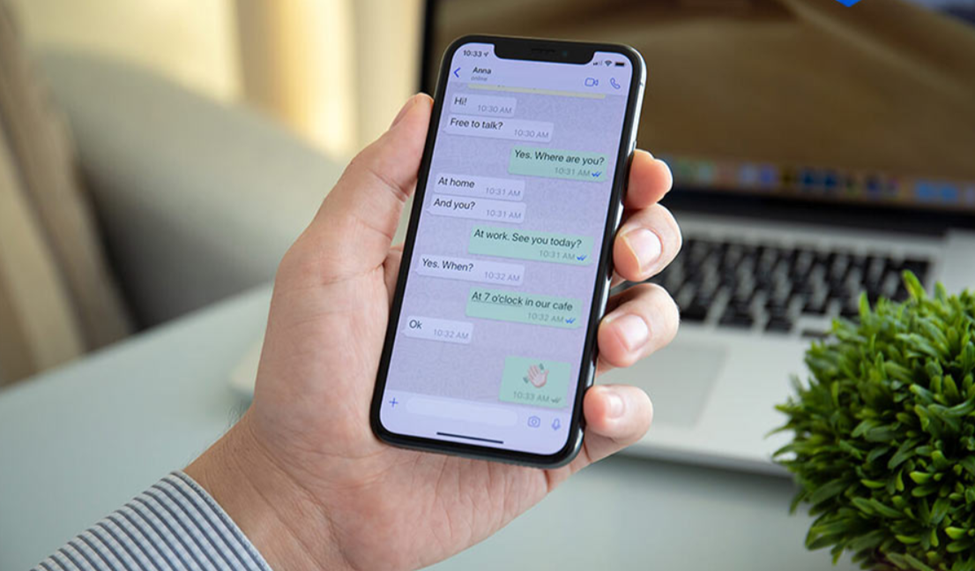 Sometimes, when you switch mobile phones, you must recover the Whatsapp messages. But sometimes, you may want to read and recover the messages you have deleted knowingly or unknowingly. Acidetenly deleted messages can still be recovered.
Reading and recovering WhatsApp deleted messages is not so complicated. However, if you want to read the messages of another person's phone, you can use the WhatsApp spy app. These spy apps give you detailed information about the target person's phone activities.
How to recover deleted WhatsApp messages online?
The popular instant messaging application Whatsapp is downloaded and installed on almost everyone's phone. Whether to text a friend or client or create a group chat with family or school friends, WhatsApp is widely preferred.
Though no built-in tool on WhatsApp allows you to recover deleted messages online, there are still alternative ways. But the process relies on the type of device you use. The steps that work for Android devices will not work for iOS. So, let's explore them one by one.
How to recover WhatsApp deleted messages online using Android?
To recover deleted data, you have to back it up first. When you backup data on WhatsApp, it begins to store copies of all messages at regular intervals time.
It creates immediately if the application doesn't find the copied data while back up. You can allow your photo and videos to back up.
Steps to see and recover deleted WhatsApp messages online
Uninstall the "Whatsapp" application from your Android device.
Go to the PlayStore and download "Whatsapp."
Now install it.
And then, open the recently installed Whatsapp application and add your contact information.
During the installation process, you will see the prompt asking whether you want to "Restore" your messages from Google Drive. Since you want to recover the chats, click on "Restore."
After recovering your data, you have to follow the on-screen instruction.
Now all your old and deleted messages are available on your chats.
Where can I see deleted WhatsApp messages on iPhone?
Like Android devices, WhatsApp supports backup on iPhones to the cloud regularly. If you enable backup on your iPhone, your data gets copied on iCloud Drive.
Steps to see deleted messages on WhatsApp iPhone and recover them.
Delete the WhatsApp application from your device by uninstalling it.
Open the AppStore and download it again.
Provide all the necessary details, such as your mobile number and name, when installing the app.
Select Backup when prompted on screen.
That's it. You can now view all the deleted WhatsApp messages on your iPhone. But make sure you have enough local storage space on your phone, and it is better to have local storage twice the size of the backup file. By using an iCloud account, you can easily see deleted messages on your iPhone.
But what if there is no iCloud backup available? Is there still another way? Luckily the answer is yes. Using iTunes, you can get back the deleted Whatsapp messages. However, in order to do that, you will need a computer.
Steps:
Connect your iPhone device with your computer.
Open iTunes.
You will find a File option at the top of the window; click on that.
Click on Devices.
Now tap on Restore From Backup.
It will retrieve your Whatsapp messages from the most recent backup of your iTunes files.
Mainly after the disappearing message features available on WhatsApp, people want to read them. If people can't see the messages before a particular time, the text got disappeared. As a result, they get frustrated. In addition to that, WhatsApp allows users to delete particular sent messages. It makes curious to the receiver because they know the person has sent some texts and later deleted them. They feel helpless, wondering what the sender might have sent.
Additionally, you can use a free application to read and recover Whatsapp deleted messages. Have you been wondering how to read deleted WhatsApp messages sent by other people? If yes, then use a third-party application.
Among several third-party apps, WhatsApp Recover is one that helps recover deleted WhatsApp messages. However, it is only available for Android users. It works with the database of Whatsapp. So you don't need to uninstall it. But the drawback is that Meta or Whatsapp does not own it, so be careful before using it.
You can recover media files and read chats using this application. A plus point of this application is that it is available on both non-rooted and rooted Android devices.
Conclusion
For the tech-savvy person, it is their cup of tea to read and recover Whatsapp deleted messages. But if you don't know about that, the backup process might help you. Rather than using third-party applications to read WhatsApp deleted messages, I recommend you go through the above other ways.
Apart from this if you are interested to know more about GBWhatsApp APK Download Latest Version then visit our Business category