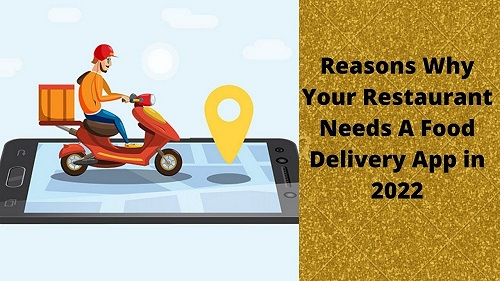 Last Updated on September 13, 2023 by admin
The commercial food industry has presented a lot of changes to the world in the past few years. Due to advancements in technology, many things change when it comes to the food deliveries sector. Due to so many technological advancements, people have become more used to their mobile phones and online services such as grocery delivery, food delivery, online shopping, etc.
With the coming of COVID 19, the advancements reached their peak. Online shopping was the only way out. At that point in time, people started using online services more often for their daily needs. Nowadays, people prefer to eat food online at their doorsteps rather than visiting restaurants and dining there. All the credit goes to food delivery apps that have helped people by providing them more comfort than ever before.
There are many food delivery applications in the market such as UberEats and Zomato that are the leaders in this segment. These apps constantly motivate restaurants to deliver their services through apps like these. Having online delivery services helps a restaurant to expand its service to more and more customers.
Launching your food delivery app improves the prospects of your restaurant in a significant manner. In this article, we briefly go through why your restaurant needs a food delivery app in 2022. Let's get started.
What is a food delivery app?
Traditionally, restaurants needed to have a system where their staff had to take orders from every customer and note it down. So this method used to take a lot. With the introduction of these apps, the process has become easiest than ever before. No one needs to go to restaurants in order to eat food. They can simply order at their doorstep.
The process of food delivery app development
Building a custom on-demand food delivery app for your business will require a roadmap of processes. They first need to hire experienced developers and designers to help them develop an app. For your ease, we have listed six major steps while developing a food delivery app for your business.
1. Analyse the market and define the target audience
Before, starting with the development phase, you need to analyse your target market and target audience. Analysing the target market would help you to understand their needs and demands. You would understand your competitors and that's very important while establishing a business. Once you have chosen the perfect market for your services, you need to analyze the audience that falls within that region. For this, you can conduct surveys with the audience. The app development analysis should include market location and size, competition level, target audience, and other possible blockers.
2. Design the unique value proposition
You need to create a unique selling proposition that will highlight your future app from the rest of your competitors. It is not a good idea to create what's already there in the market. You need to develop something that will easily distinguish your product from the rest. Unique products have a different place in people's minds. Users remember things that are different from the rest of the kind. Therefore, you need to keep this in mind while developing your plan.
3. Hire solid developers
Once you have developed a solid plan for the app, you need to hire experienced developers for your products. You may also need designers to decide the design of the app. When choosing the perfect developer for your app, you may look at their portfolio and their past experience. If it suits your requirement, you can go with the. Apart from developers, you may also need to hire some UI UX designers, quality assurance specialists, and product managers depending on your requirement. In total, you would be requiring them:
Front-end and Back-end Developers code the application,
QA Specialists thoroughly test all app components,
Project Manager runs the whole project and manages the whole workflow.
4. Build an MVP of food delivery app
The Minimum Viable Product methodology focuses on delivering the app in the minimum required time possible. In this methodology, the team focuses on cutting down the process into small parts to finish it quickly. Usually, building an MVP takes about 3 months.
5. Launch and gain users feedback
Once you are done with the development phase, you can launch the app and test it with various users. Try to conduct some surveys on the usage of the app. User feedback would help you to fix issues that they might be facing while using the app.
6. Plan the further development and app maintenance
After the app is launched, you need to provide users with regular updates by fixing errors in the app. After taking user reviews and feedback, you can add more functionalities to the app. This would help you to remain in the market for a longer period of time.
Food delivery app features
This is the most important thing while developing a food delivery app. You need to understand its various functions and features.
Key features:
Registration –
User and restaurant registration is the first step when someone opens the app. Once they are registered on the app, you are ready to use it.
Search –
The search feature allows users to search for their favourite items in the menu. Users can also apply filters to their search based upon categories, ingredients, price or any other factors that you think are necessary.
Profile management –
Using this option, restaurants can manage their profile and include things like delivery timing, menu, prices, and other necessary things.
Order placement –
Order management includes adding, removing, changing, and cancelling items that are present in the basket.
Order status –
This feature helps the users to know the current status of their food. They can also track their order and know the status of it.
Payments –
The app is integrated with international payment methods that allow users to do payments using several methods.
Push Notifications –
It helps everyone including delivery executives, users, and restaurants to get instant notifications related to orders.
Admin Panel –
The admin panel is where every feature of the app is handled.
Should-have features in a food delivery app
Ratings & Reviews –
It allows users to rate the services of a restaurant. They can rate the food items and the services of the delivery executives.
Order history –
Having the access to order history helps users to order the same items again without searching for them again.
Favourites –
Users can add their favourite restaurants and food items to this list to easily access them later.
Coupons –
Users can apply coupons to their food time to get some cool discounts on their orders.
Delivery time estimation –
It provides information about coming delivery.
GPS navigation tracking –
rIt helps users and delivery executives in real-time order tracking with map view.
In-app chat –
can contact restaurant staff through live chat.
Since now you are familiar with various features that should be included in the food delivery app, you can choose the best ones for your app.
Advantages of launching a food delivery app in 2021
1. Attract customers with offers
Having a food delivery app provides users with seasonal discounts, festival offers, and various other coupons from time to time, these discounts attract them to order more from the app.
2. Easier fulfillment of orders
Fulfilling food delivery orders has never been this much simpler. With the help of food delivery apps, it has become easier than ever before. Users just need to select the required item, add it to the cat, and pay for it. Their order will be delivered within no time.
3. Reach a wider audience
Almost everyone uses a smartphone to purchase products and services from online sources. Therefore, it becomes easy for a restaurant to market itself with the help of these apps.
4. Announce promotions
With a single app, it becomes super easy for a restaurant to announce the promotion to a wide audience. They can use the feature of push notifications to reach out to them.
5. Hassle-free payments
These food delivery apps like UberEats eat clones app provide a hassle free payment system to users. There are a wide range of payment options present on the website. Users can select any of them to do their payment.
Wrapping up
Food delivery apps are changing the world with their services.  A food delivery app like Ubereats clone can take your business to a next level. The features and integrations that are present in the app are worth giving it a try.  Therefore, if you want your business to do wonders in the market, you can choose any food delivery app to provide services to your target audience. Therefore there are many reasons to choose a food delivery app especially in the year 2022. So, if you are into the food delivery business, give a try to a food delivery app.