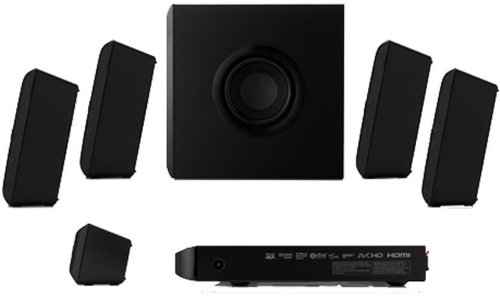 Last Updated on December 21, 2022 by
Home theatres have transformed how people watch movies at home. Whether it's the increased bass or the increased volume, the entire experience has been upgraded to meet the standards of a fully packed cinema hall. Soon after the industry recovered, many companies entered the home theatre market with their products. The introduction of newer innovations with each launch resulted in confusion among customers, who began to question the validity of the previous inventions.
We have listed the best JBL home theatre based on their high-quality performances in the past and their ability to resolve this issue.
JBL BAR 9.1 Home Theatre system
JBL is a pioneer in all music systems, thanks to its constant innovation and ability to adapt to changing trends. Everything from full-featured home theatre systems to small but powerful earbuds is meticulously designed and manufactured by a company that cares deeply about quality and service.
The JBL BAR 9.1 is a fantastic addition to its existing home theatres, and it is available now. It is priced at the higher end of the spectrum, but every small component contained within it justifies its high cost. With the help of a built-in Dolby atoms system, the system provides a 3D sound experience and optimal bass and sound levels.
In addition, it includes a wireless subwoofer that allows for seamless connections while still providing a 4K viewing experience. In addition to these features, it also supports Google Chrome Cast and other clever plug-ins, allowing you to enjoy an unrivalled audio experience. The JBL Home Theatre price ranges from Rs. 89,999.
JBL Bar 2.1 Deep Bass Home Theatre system
JBL introduced many reasonably priced home theatre systems to establish dominance over the target audience to reach every market segment. Because premium products have always been associated with positive brand associations, it became easier for them to tap into new markets as time went on. Using the JBL bar 2.1, you will experience a powerful bass effect backed up by the JBL surround system.
When combined with an equally loud and efficient soundbar, the 2.1 channel system provides the user with a very authentic experience of the music they are listening to. It is possible to connect the system via Bluetooth and HDMI, which will allow customers to navigate more effectively. With a budget in mind, it is one of the best home theatre systems available in its price range and should be considered when exploring your options. The Deep Bass JBL Home Theatre price ranges from Rs. 25,999.
JBL BAR51 Home Theatre system
With this JBL soundbar, you can enjoy watching a movie in the comfort of your own home while experiencing a movie theatre-like experience. The 510 W's high-quality audio output ensures a completely immersing listening environment in every situation. Because of this JBL soundbar, you won't need to purchase additional speakers to achieve a surround sound effect on your television. The maximum playback time for these wireless speakers is approximately 10 hours.
Furthermore, you can install this sound system in your home without having to deal with a tangle of wires. It is simple to connect your 4K devices to the three HDMI inputs, which will allow you to elevate your aural experience to entirely new levels. If you're planning a house party for your friends, you can easily stream music from your smartphone to this soundbar so that everyone can dance to upbeat beats wirelessly.
The JBL Sound Shift feature on this soundbar allows you to seamlessly switch between the audio coming from your TV and the audio coming from a paired phone or tablet. The BAR51 JBL Home Theatre price ranges from Rs. 59,999.
JBL Party Box 100 Home Theatre system
JBL Party Box speaker home with you and enjoy high-quality immersive sound whenever and wherever you want. It also has RGB LED light patterns that move in sync with the music, which is another cool feature. This makes it an excellent choice for parties, as you can also enjoy a light show in addition to the powerful and clear sound. With the help of this speaker, you can enhance the atmosphere of your party with good music and a light show.
You can also choose from various other light patterns with relative ease. It produces 160 W of JBL signature sounds, which can help to make your party more rocking and exciting. If you want to enhance your listening experience, you can connect up to two compatible party speakers to the True Wireless Stereo and use them in conjunction with it.
To activate the speakers, press and hold them for up to 5 seconds on either side of the device. It is simple to connect any Bluetooth-enabled device to it and wirelessly stream your favourite songs from various sources to your listening pleasure. The JBL Home Theatre price ranges from Rs. 22,999.
Apart from this if you are interested to know about Senior Citizens & Family Health Insurance then visit our Uncategorized category.