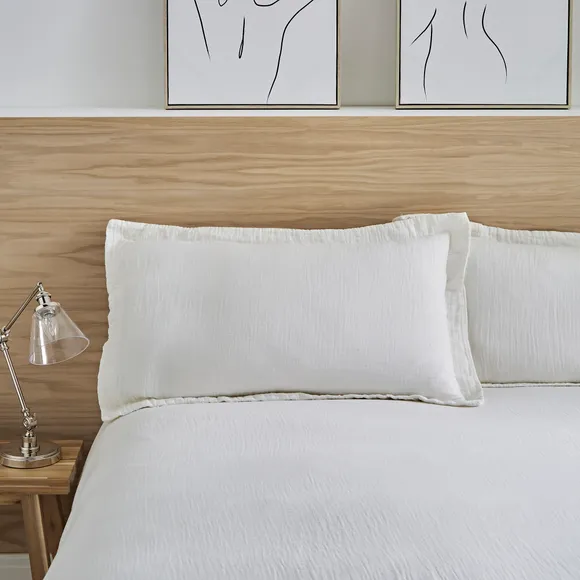 Last Updated on December 23, 2022 by
When it comes to putting the final touches on your home, selecting the appropriate bedding is crucial. However, it can be challenging to zero in on just what it is you want while searching online for bedroom design ideas and appropriate bedding options.
Consider the use of pillowcases. What's the big deal if you change your pillowcase? Both the traditional Housewife pattern and the finer Oxford pattern are available to you, but their small variances produce a radically different appearance. We've made a handy bedding guide to help you tell the two apart and select the perfect pillowcase for your space.
Housewife Pillow Case
You've undoubtedly used a Housewife pillowcase before, as they're the industry standard. Housewife pillowcases are the no-frills alternative, with a typical rectangular bed pillow fitting snugly within and a simple, stitched edging.
We like to think that the term "Housewife" was given to the pillowcase in honor of the Housewives Co-operative in Bolton, which, in the 1880s, modified the conventional pillowcase by adding the inside flap that keeps the pillow in place.
If you're going for a casual look, scattering pillows around the room, or letting other design elements do the talking, the Housewife pillowcase is a great choice.
An Oxford Pillow Case
The Oxford Pillowcase is the more stately option, with its 5cm wide ornate fabric border around the outer edge of the case. While an Oxford pillowcase is the same size as a Housewife pillowcase, the extra fabric around the edge gives the appearance that the pillow is larger.
There is some debate over where exactly in Oxford the design was first developed, but that isn't the only mystery behind Oxford's pillowcase. There's also the hypothesis that the name refers to the sturdy Oxford cloth that was used to create the initial versions of these pillowcases. We're relieved to have progressed to the era of silk and cotton pillows.
The Oxford pillowcase is wider than a typical Housewife pillowcase, making it a better fit for larger bed frames. Oxfords may be worn on their own or layered with other, smaller Housewife types for a more opulent effect.
In short, remember that the Housewife is basic and the Oxford is sophisticated. Several aspects, like the size of your bed, whether or not you plan to include other ornamental cushions, and the overall look of your bedroom, will influence your final decision on the sort of pillowcase to choose.
Our beautiful selection of hotel bedding, including Housewife and Oxford pillowcase types made to hotel premium standards, is sure to inspire you to give your bedroom an air of extravagance.
Which one would serve me best?
It's really a matter of personal preference whether you go for an Oxford or a Housewife pillowcase, as both serve the same purpose.
Whether you want your bedding to seem simple and practical or elaborate and ornamental is a personal preference. Due to its simple rectangular design, housewife pillow coverings may be made to seem more appealing by adding interesting patterns. If you like simplicity and wish to save expenses and hassle, you will love them.
Conversely, the extra border on the Oxford pillowcase gives the impression of larger pillows and adds a touch of elegance to your bedding ensemble. These are great for making guest rooms seem more unique and welcoming and are a must-have for anybody who loves to add extra touches of luxury and decor to their homes.
Apart from this if you're interested to know about Find Out Why It Might Be Crucial For You To Have Personalized Custom Pillow Boxes then please visit our Business category.