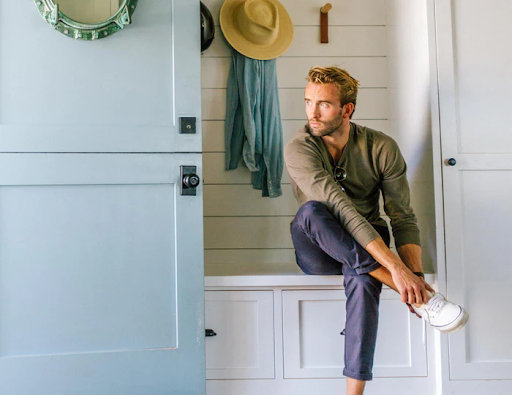 Last Updated on January 1, 2023 by tabraiz579
Do chino pants tend to be your go-to outfit? After all, it's something we can all relate to. Any closet would be incomplete without a pair of classic chino or trouser for men. In other words, men's trousers are the most accommodating garment ever invented. These pants are extremely versatile and can be worn with a wide range of looks. Casual or formal, chinos are a versatile wardrobe staple. You can wear them with anything already in your closet if you learn how to style them properly.
These days, chinos are reserved for more relaxed or semi-formal occasions. However, many shoppers still don't know which t-shirts work best with these bottoms. Chinos and t-shirts are two of the most versatile pieces in a man's wardrobe, and they can be worn together in countless ways to create stunning looks. 
A man can pair chinos with either a long- or short-sleeved t-shirt. A lot of thought went into creating this pairing. Some of the best ways to dress in a t-shirt and chino pants are discussed here. All right, let's begin.
A Close Eye On The Weather Is Essential
The weather is an important factor that should be taken into account when choosing an outfit. It's never a good idea to make a call without first taking the weather into account. This is true in particular for men who prefer to dress casually in chinos and the best men's t-shirts.
One of the chinos' greatest strengths is their year-round versatility. This adaptability is something you get with chinos. The construction material makes them appropriate for use in any weather. Wearing this cotton twill is a breeze because of how light it is. Also, you can wear it even when it's much colder outside. But, skip[ wearing light khaki pants in a rainy and windy environment.
The versatility of T-shirts is also remarkable. They're perfect for the warm weather of summer.
Nonetheless, layering is essential in chilly weather. The best warm-weather outfit consists of a pair of slim-fit trousers for men, a plain half-sleeve t-shirt, and boat shoes.
If the weather is mild, wear a pair of slim-fit chinos with a crew neck t-shirt layered under an open button-down shirt and suede loafers. For chillier weather, however, heavier chinos are the way to go. Wear these chinos with a crew-neck tee and a merino wool cardigan for a comfortable and stylish layering option. To top off the outfit, wear a parka and Chelsea boots.
Be Sure to Check Your Facts
Think ahead to the final touches of your outfit and have them ready. For instance, you can't go wrong with a pair of brown shoes, some black chinos, a white shirt, gold or silver metallic watch, and a black tie. Your brown shoes and light khaki pants should not clash, but your accessories should. Nobody will take your outfit seriously if you don't take the time to coordinate your accessories.
Why Always Wear Good Clothes
You should look for a good sweater, some tanned brown Chelsea boots, and a pair of black chinos or trousers pants for men. What you end up with is a stunning and romantic look that will impress any potential suitor.
Your knowledge of how to dress appropriately for different weather conditions while wearing a man's t-shirt and pants has been expanded by reading this article. However, formality is not to be disregarded when pairing them. Chinos and a t-shirt are a great choice for a casual or semi-formal outing. You should follow this guideline whenever you wear chinos or trousers with t-shirts. You can find a wide selection of men's chinos and t-shirts.
Apart from this if you are interested to know about Eid Dresses For All Day then visit our Fashion category.