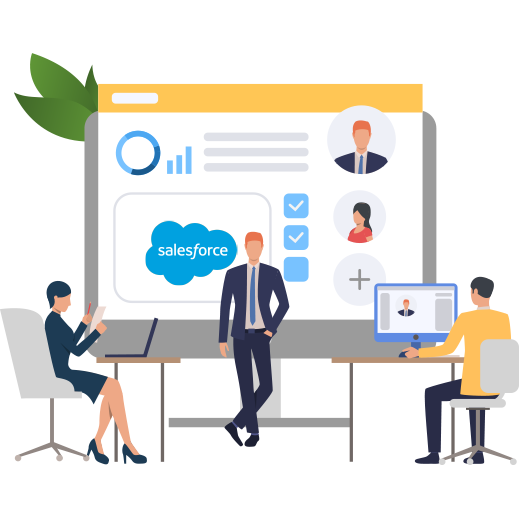 Last Updated on December 31, 2022 by tabraiz579
Australia is home to some of the world's largest and most successful businesses. Professionals from all over the world are flocking to the country in search of new opportunities. This has fostered healthy competition and prosperity across industries. Salesforce partners in Australia can assist in such a situation. Businesses make data-driven decisions and provide the best possible service to their customers.
Salesforce
Salesforce is a software cloud-based company that provides Customer Relation Management services. It is a popular CRM tool for marketing, support, and sales team worldwide. The main objective of Salesforce services is to let businesses use cloud technology to maintain better relationships with customers, partners, and stakeholders. Also, there are many other CRM tools; Salesforce has an add-on in this case as it can perform analytics, generates short reports, and forecast trends.
The main aim of the CRM tools is to maintain a good relationship with customers and potential business customers and improve profitability by maintaining those relationships. As we know that Australia is among one of the most successful businesses, there is no doubt that Salesforce consulting is also a growing tech in Australia. Many multinational companies use Salesforce services by their practitioners. 
Salesforce Communities
Salesforce's ecosystem relies heavily on these communities. A company can create any type of community it wants in Salesforce, but there are three main types: Employee communities, Customer communities, and Partner communities.
Customer Communities: 
These are self-service portals that allow customers to get solutions for their questions through articles, documents, conversations, and discussions with other customers.
Employee Communities: 
These are the internal sites that connect employees and give them space to share the files, access documents and announcements related to the company, and manage their projects.
Partner Communities: 
These are the information hubs that allow the sales team and the resellers to collaborate and access data which is important and also leads to closed deals
Salesforce Partners
With the increasing demand for Salesforce, many organisations moved forward to become partners with Salesforce. Few companies offer Salesforce services though they are not registered partners. The different tiers of Salesforce Partner are obtained based on the CPT Score.
Salesforce Partner Program
The Salesforce partners have tiers of different levels based on their Consulting Partner Trailblazer score. The five tiers of the SlaesForce Partner Program are Registered Silver, Gold, Platinum, and Global Strategic. The main motto of the Salesforce Partner is to develop and provide customised solutions per the requirements as well as project integrations and implementations. They will handle the in-depth training and ensure successful team adoption. It helps the team to see the challenge beyond their expertise through enormous learning.
This program also provides features across categories such as Sales and Market, Design and Develop, Service and Support. Previously, Partners had to pay annual program fees to be a Salesforce Consulting Partner. These fees have since been eliminated, and Salesforce instead encourages Partners to invest their money in growing their businesses.
Therefore, the best Salesforce partners in Australia might offer one the device to learn, practice, and test. The on-hand education on using the Salesforce gear is given to the applicants enrolled with the salesforce companions.
Please find the best salesforce partner to grab the industry-relevant skills that help one ace their career with high-paying jobs. Finding the best trainer is always a hectic thing. All the google reviews might seem fabricated. So, carefully choose the perfect salesforce partner and get the best skills out of you!
Apart from this if you are interested to know more about Some Architectural Firms then visit our BUSINESS caterogy.