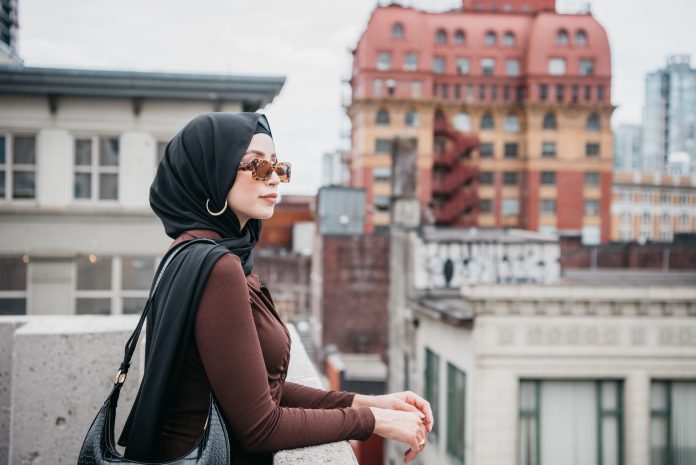 Abaya is a traditional dress for most women in the Middle East. When he had a peep in the past it was found that they were originally black. Many times it is also known as aba, it is especially a loose robe pattern outfit, that covers the whole body from head to toe. It can also be worn in a kaftan style, which is trendy these days. Although they were meant to be worn on special occasions, these days they are carried in day-to-day life.
Many colors never go out of style and black is one of them, the love for it never ends, no matter how many outfits you already have. Still, there will be different dresses available in your wardrobe, people might think you are wearing the same, but the person who loves this color will know the difference. 
Style Your Black Abaya With Jeans Or Pants
However, black is an evergreen color but it doesn't look good on every occasion. For formal or for casual evenings you can go for all black, but for a party or an outing, just add some colors to your outfit. For instance, when you are going for a black abaya either you can take a black hijab or any subtle color or light-colored jeans or pants. Or for parties, you can go for some glitter in your black abaya or some work on your hijab in any color you want. As sparkling black will give you a chic look for parties.
Open Abaya
Your choice matters a lot while you are dressing up. But if someday you fall short of trendy ideas, you can always go for inspiration from bloggers or Instagram. Over there you will find numerous ways to style one thing. The benefit of choosing an open abaya is that along with it you can flaunt your whole outfit. In this also there are many ways, such as you can either let your abaya flow free and use it like a shrug or you can add a belt to it to enhance your waist and it will stay intact. Under it, from jeans to pants, or skirts anything will look good. Colors play an important role, it tells about your choices and styling sense.
Moreover, for this look go for monochromatic colors, instead of multiple colors. As the same shades will make you look slimmer and taller in an open abaya.
Accessories
Accessorizing your outfits creates a huge difference. Even if you are wearing a subtle outfit, it will add a little bit of sparkle to it. With your black outfit, you can mix any other color accessory. For instance, from neon-colored bags, and heels, to bright or subtle colors, anything will look perfect and give a chic look. Moreover, you can go for fancy-colored eyewear, and chokers, or play with the colors of your hijab or scarves. But keep in mind don't overdo it, go for bold accessories with a subtle abaya, and if you are going for a monochromatic outfit then go with subtle accessorize.
Why To Roam In Busy Markets When You Can Design Your Abaya?
Already everyone is busy in their lives so going to market and purchasing your desired outfit might be tricky. Stop the hustle, instead buy the best fabric and design in whichever way you want. And for that, we have a place for you, Fabriclore one-stop destination for high-quality and sustainable fabrics. All the fabrics go under quality check by our experts and then are delivered to you. We have a wide variety of fabrics from nylon, polyester, georgette, cotton, silk, taffeta, and more with numerous patterns and mesmerizing shades available in each one of them.Moreover, if you have an idea in your mind our in-house designers will assist you in completing your dream attires or any other project. With this, you can get customization also and make it unique from others and create your style statement. In addition, you can buy wholesale fabric and also at retail at a reasonable price and in any quantity. Our shipping services along with India are also available in the USA, UK, Middle East, and Canada.