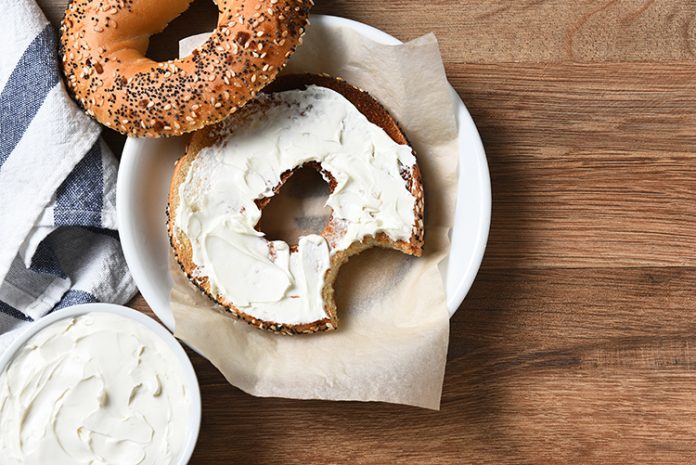 Last Updated on January 17, 2023 by tabraiz579
Yes, there are plenty of great chain restaurants that offer great terrific bagels. Perhaps your best option is to find a Bruegger's, where they offer 14 different bagel flavors along with lots of bagel egg sandwiches.
if you're a true bagel fanatic, you might want to go with more obscure bagel shops that really focus on offering out-of-this-world bagels. And if you're that obsessed with bagels, then you might want to crisscross the US and find the following bagel shops:
BB's Bagels in Alpharetta, Georgia
The most popular bagel in BB's is undoubtedly the rainbow bagels. No, it's not some sort of political statement regarding equality for all races or all preferences. It's not really even about attracting the attention kids, although that's part of the reason. Basically, it just looks magical, and it tastes magical too. That's why the adults love it as well.
BB's does believe in treating all customers equally, which is why they offer a very wide range of options on their menu. You can get yourself something basic like a sesame bagel and one egg, or you can go with the rainbow bagel with tuna salad. Everything tastes great here, so you can try everything.
Kaufman's Bagel and Delicatessen in Skokie, Illinois
Skokie isn't exactly the first place that people think about when they think of places with great bagels. But Kaufman's can sure put all the other bagel shops to shame. And they don't even stop with bagels, since they offer plenty of deli sandwiches. Heck, the menu even lists chopped liver.
The quality of the bagels here does deserve mention, as it's magnificent. You might think that you'll order something basic like a bagel topped with lox or cream cheese, but it's not that simple at Kaufman's. every bagel here is crisped perfectly, and then served at the ideal temperature. It's just right.
Rise Bagel Co. in Minneapolis, Minnesota
Here at Rise, they make all their bagels from scratch and then boil them perfectly. This process leaves you with bagels that give you that perfect combination of chewy and crisp with each bite. It sure doesn't hurt that they only use organic ingredients, if that matters to you.
You can come here and just enjoy a bagel with some cream cheese, and it will already be terrific. They have lots of available options, but you should really try the honey rosemary, salted maple, and the lemon dill bagels.
If you want something more filling, then you can go with a sandwich instead. And you also have lots of alternative vegan items as well.
Proper Bagel in Nashville, Tennessee
Most of the better bagel shops all over the US has this no-nonsense vibe that emphasize that it's all about the bagels. That's not exactly true with Proper Bagel, with its distinctly contemporary and trendy atmosphere. But then again, it's in Music City, so it's not surprising.
Here, you can enjoy a dense yet fluffy bagel with egg and avocado, or with rosemary garlic cream cheese. Then they'd give you a side dish of sweet potato mash or microgreens, so you can at least think you're eating something that's actually healthy.
If you're ever here, you really need to try their bagels with custom cream cheese. They have lots of available options, from classics like the terrific scallion dill to the innovative choices like cookie dough cream cheese or lavender honey. You can even partner your bagel with granola and rosewater Greek yogurt.
This isn't a purist's bagel shop, but it's fantastic nonetheless.
Bagel Hole in Brooklyn, New York
NYC is one of those places where you expect to find plenty of terrific bagel shops, and you're not wrong. And you're certainly right if you go straight to Bagel Hole in Brooklyn. This place is so good at making bagels that Serious Eats even ranked this as the number one bagel in NYC. For purists, that's like saying it's the best in the US, meaning it's the best in the world.
The shop proclaims itself as one of the few remaining old-fashioned bagel bakeries, and their bagels certainly deserve attention. They're so magically fresh that you might think that the bagel you're eating was custom-designed to match your specific taste buds. They'll also willing put in anything you want to match with your bagel, whether that's lox or scrambled eggs.
Best of all, you're getting all these artisanal bagels at very affordable prices!
Yeastie Boys Bagels in LA, California
Okay, the name of the place does seem a bit…off. But you won't really mind, especially after tasting one of their bagels. You can try them toasted or plain, with some cream cheese or butter. It's so yummy that even a New Englander can't complain.
But the place does offer rather strange (but often genius) bagel flavors and options. You might want to try their frozen pizza bagel (seriously), or even their PB&J bagel. The mini bagels with schmear are also fantastic. This place is fun, and they don't mind goofing off with some really wacky flavors.
Brooklyn Bagel Blog review – Proper Bagel, Nashville, TN
Apart from this if you are interested to know more about Historical Charts, Forecasts then visit our Business category