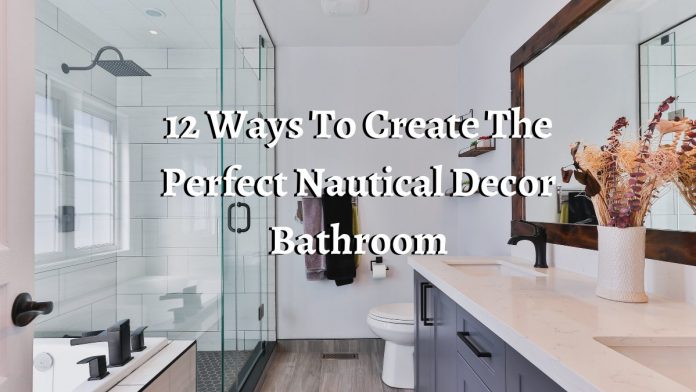 Last Updated on March 4, 2023 by admin
You do not necessarily have to live near the beach in order to enjoy a nautical bathroom design because you can actually find this kind of motif in the bathroom of a house regardless of its location.
How?
Through an ocean-themed bathroom, you can imagine yourself being by the seashore relishing the feel of the sand under your toes and hearing the crashing waves. Moreover, you can add nautical accents and other features like rustic wood and stripe patterns to further enhance your bathroom's aesthetic. Go with blue and white hues, and then for a scavenger feel, incorporate rattan and driftwood in the picture.
To evoke happy memories of bygone times, you may also personalize the design with trinkets like photos and postcards. Therefore, even if one is entirely on land, one can benefit from the waterfront experience by using these ideas that will transport the beach indoors.
Turning Your Bathroom into a Seaside Spa
You may incorporate a beautiful and serene nautical design into your home in a variety of ways, beginning in one room and working your way across the house. Here are suggestions on how you can use a few items to transform your bathroom into a rejuvenating resort:
1. Cupboards/Cabinets
Your bathroom cabinets take up a lot of visible space. That is why it makes a fantastic foundation for putting in the beach or maritime aesthetics. There are a lot of things you can do to decorate your cabinets and drawers with various marine life. For example, have a cabinet fashioned to mimic a row boat or get one with a porthole? Your nautical-themed bathroom might also benefit from the elegance of classic furnishings.
2. Cabinet Handles
Cabinets are for practical storage, which is why they are a constant in bathrooms. To give your bathroom an oceanic vibe, you can utilize your cabinet knobs to bring a playful, whimsical touch to your washroom. Dolphins and shells can be combined in different ways to express your own creativity.
3. Bath Mats
To make your bath mat look like sand, go with a light tint like beige. When you exit your shower, it will seem as though you are walking out of the ocean.
4. Shower Curtain
A shower curtain with prints of nautical sea creatures (i.e. shells, dolphins, and starfish) and other marine objects (i.e. boat steering wheel, anchor, and fisherman portrait) is a good option. You may also do DIY in case you don't have a shower curtain with a nautical theme. A plain white curtain will do; you just need to be creative by hanging a decorative fish net on the outside of the curtain to give it a distinctive nautical look.
5. Wall Ornaments
You can explore as much as you can when it comes to your wall decors. From marine life, ships, lighthouses, anchors, and ship steering wheels, to nautical flags wall art, marine-themed wall switch plates sailboats oil paintings on canvas, and nautical wall art prints of famous quotes or bible verses—the sky's the limit when it comes to your styles of decorating your bathroom walls. Speaking of wall plates, by the way, you can browse online for guidance on trendy decorative wall plates, switch plate covers, and outlets that are a perfect fit for your nautical bathroom decor.
6. Towel Hooks
Every bathroom needs towel hooks to keep towels dry and clean. To give your hooks some personality, you may use an octopus-shaped or a shell-themed towel hook. It strikes the ideal balance between stylish and wacky. While some rest on a frame, certain decorative hooks can be placed directly on your wall.
7. Lights
The key to tying your bathroom decor together is excellent bathroom lighting and you have many lighting options to choose from.
8. Mirrors
A restroom wouldn't be what it is without a mirror. With a nautical mirror, you may create the impression of being on a ship. At the same time, you will inspire your guests to consider adopting nautical decor for themselves.
9. Toilet Paper Holder
Bathroom tissue holders are often seen as small inconsequential objects. Nevertheless, if you look closely, they offer opportunities for you to take your creativity further if you are aiming for a nautical theme in your bathroom. A vintage octopus-shaped toilet paper holder, for example, is both cute and chic.
10. Candle Holders
Your bathroom will look even more attractive or romantic with just a few candles. However, you can make your bathroom atmosphere even more striking by incorporating objects, like marine-inspired candle holders, throughout the rest of your nautical-themed design.
11. Clock
A clock is highly valued in the bathroom since time is a powerful nautical element. A wooden boat wheel clock or a nautical compass-inspired metal clock can be a fantastic addition to your marine bathroom decor.
12. Tiles
Tile colors do matter when establishing the mood or ambiance of your bathroom. If you desire to achieve an oceanic feel inside your washroom, go for soft whites, pale grays, blues, or greens These colors are great because they all evoke a beach vibe. Also, choosing more neutral colors for floor bathroom tiles in a larger arrangement will make floor space stand out more and the coastal design much cozier.
Get Set for Your Nautical Bathroom Remodel
Regardless of your choice and preference, incorporating marine-inspired items into your bathroom will surely add charm and a sense of calm to your interior decoration. It's simple to reproduce a beach-themed home or turn your bathroom into a sanctuary as long as you have the right accessories.