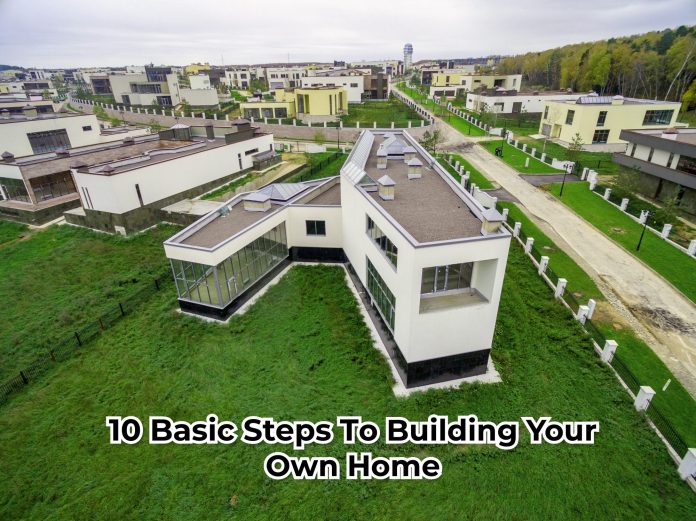 Last Updated on December 23, 2022 by Hammad Hassan
In this article, I will discuss the 10 basic steps that you have to follow if you want to build your own home after purchasing a plot in a housing society.
These steps are very easy to understand and you can easily implement them if you have a little bit of knowledge of building a home.
So, let's start discussing the 10 basic steps of building your own home.
1: Wisely Choose The Location:
In order to build your own home the first step that you have to perform is to choose the location wisely.
Always choose a location where you will avail all the facilities like schools, mosques, bank ATMs, and parks, and the most important thing is luxury environment and secure place.
Also, you should get detailed knowledge about a housing society where you are going to buy a plot.
Like if you want to buy a plot in a housing society like NMC Gujar Khan then you should check if it is approved by NOC (No-objection certificate) and TMA or not.
2: Choose The Plot Size:
After choosing the location wisely you have to choose the size of the plot where you want to build your own home.
Some people want small houses whereas some want large houses where they can build a beautiful garage and a lawn.
So, choose the plot size that is the best fit for you. On average 10 Marla to 1 Kanal plot is enough for building a home with a garage and lawn.
3: Plan Before Execution:
After choosing the location and size of the plot now you have to make a complete plan before you execute. Plan the map and structure of the house and set an estimated budget that you want to spend on building your own home.
It is necessary to set the budget before execution, you can also consult with a contractor who will give you an estimated amount that would be used to build your home according to the size of the plot.
Keep in mind higher the size of the plot higher the amount you have to spend on building a home.
4: Hire A Construction Team:
After planning, you can hire a construction team who will be responsible for building your dream home.
Before execution, you must have to give your requirements to the construction team so they work accordingly and in the end, you get the home that you want.
5: Monitor The Construction:
It is very important to monitor the construction of your home. Although you give your requirements to the construction team that's not enough.
If you want to get a home that you think then it's important to monitor the construction of your home.
At any point, if you feel something is going wrong you can talk to the construction team and give them the suggestion that you want something like this.
6: Interior And Exterior Finishing:
After the structure of the home is built completely, you have to focus on the interior and exterior of the home and design it well.
You can search for interior and exterior designs of modern homes online or you can hire a designer who will give you suggestions.
7: Install Floors:
The most important part of the home are floors that you install in your home. Always go with a floor that is durable and will not damage easily with heavy foot traffic.
You can go either with tile flooring or hardwood flooring. These floorings become very popular in recent years.
8: Install Doors And Windows:
After installing floors, now it's time to install doors and windows in your home. Choose wood doors and windows because they are popular these days.
After installing doors and windows paint them with beautiful colors to give them a stylish look.
9: Decorate Your Home:
If you want to make your home more stylish then you can add some decoration pieces to your homes like artificial plants and some other decoration pieces that you can place on the corners or tables.
10: Take Approval From Society:
When your house will be complete take approval from society like if you build your home in New Metro City Gujar Khan then it is necessary to get approval from the authorities if you want to sell it out or you want to live inside it.
Apart from this if you are interested to know more about Designs For Your Modish Home then visit our Business category